I had a really brutal week, so this weekend I wanted to get in some sweet relaxing, and what better way to do that than by putting my engineering genes (thanks Dad!) to work and attempting to construct our first piñata!
Derek and I decided on a snowman piñata and I had the misguided idea that that would require 3 balloons all paper mâché'd together.  Easy peasy right?  Not exactly.  Derek told me we needed to make extra "test piñatas" so that we could evaluate the structural integrity of different mâché-ing methods.
This was not the stress-free weekend I had envisioned.  Piñata making is kind of hard if your only previous experience is "Piñata Assistant" as an 8 year old, to my mother.
In an attempt to "relax" whilst Derek mixed up the paste (Is it too thick?  Too thin?  So many decisions!), I made myself a cocktail and was enjoying it while blowing up the balloons.
We bought the assorted pack of balloons and so there are a lot of weird shapes in there.  Like this one.  What the hell kind of balloon is this?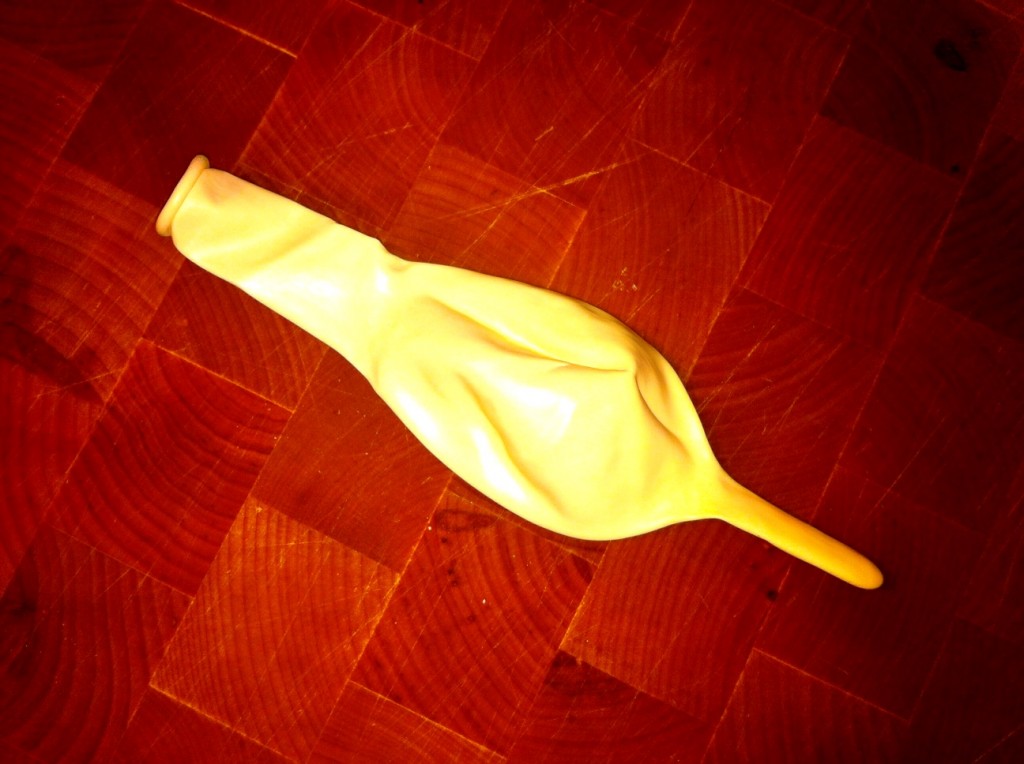 When we found a LONG balloon, we had a lengthy debate about whether or not our piñata was a girl or a boy and if boy/girl bits should be part of the process.  Unsurprisingly, Derek thought a strategically placed long balloon would be hilarious and manly.
(We wisely realized that attaching a long balloon or two round spheres to the front of a snowman is both creepy and lots of additional work.  Finally, some good decisions!)
After many hours of work, we have 2 possible piñatas, both are still undecorated because it takes a LONG time for paper mâché to dry people.  In an effort to speed things up, I cranked the heat in my condo and that seems to have worked.
I won't bore you with the rest of the details but I will share with you some of my key takeaways.  You may wish to print out this handy list because I'm sure I've inspired you to start making your own piñatas.
Whole wheat flour is bad.  Especially in piñatas.
Once your hands get messy, it is practically impossible to hold your drink.
Drinking wine through a straw is oh so classy.
Do not wear black.  Even if you want to look all slim while mâché-ing like a boss, getting piñata paste off your clothes is near impossible.
Piñata making is not the stress-free weekend activity they make it out to be, this shit takes time people!
Derek will probably post the actual important details in his science-y post, but if you're not into science, don't worry, I will continue to provide this type of valuable content to you each month!