Hot off the success of our inaugural snowman piñata and flush with awesome and challenging piñata ideas (keep 'em coming!) we dove into February with aplomb. What would capture the mood of the coldest month?
Valentines hearts were too cliché. Somebody suggested a horse for Chinese New Year. This evolved into the inspired "Fortune Cookie filled with Fortunes" idea and the rest is history. Heather has the details here.
For the curious, we present the development details and the results. Please don't stare. It's for science.
Initial Gathering of Materials
The idea was to fold the piñata exactly the same way a real fortune cookie is folded. We practiced on little bits of paper cut to the same scale as a fortune cookie.
Satisfied, we proceeded to create a larger scale version of the same idea. We created a huge sheet of papier mâché cookie dough by pressing together a couple sheets of woven strips of newspaper held together by our trusty flour paste.
It was all covered by an amazing handmade paper we found at the art supply shoppe. This would give us our authentic fortune cookie look and visual texture and our piñata would have a single continuous surface free of seams. It would be exactly like a real fortune cookie!
Everything went as planned and our cookie was taking shape nicely. There was just one problem.
You see it, don't you?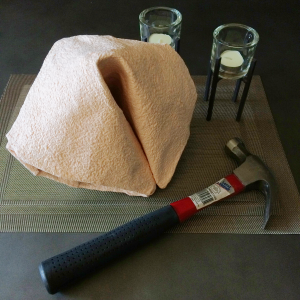 After the laughter subsided, (and certain people stopped poking it with a stick) we decided to finish it anyway to see how it would turn out. Here it is.
From a Piñata Science perspective, it worked. We had our fortune cookie exactly the way we'd drawn it up, and it was pretty nice.
Obviously we couldn't bring ourselves to whack this piñata and we certainly weren't going to ask anyone else to do our dirty work. The February Piñata Project was stopped there.
In case you are wondering, this ode to scientific curiosity exists to this day. Please contact us if you need a restroom sign.